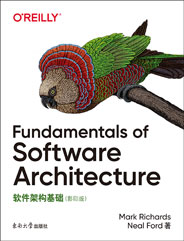 软件架构基础(影印版)
出版时间:2020年12月
页数:420
在全球范围的薪资调查中,软件架构师经常位列十大最佳工作岗 位排行榜,但是却没有真正的指南来帮助开发人员成为架构师。现在,这本书来了。书中首次全面概述了软件架构的诸多方面。有抱负的和现有的架构师可以从中学习到架构特征、架构模式、组件确定、架构图解和展示、演化架构等诸多主题。
Mark Richards和Neal Ford —— 多年来专业教授软件架构课程的践行者,将重点放在适用于所有技术栈的架构原理上。本书将带你从现代的角度探究软件架构,思考过去十年间的所有创新成果。
本书介绍了:
● 架构模式:许多架构决策的技术基础
● 组件:识别、耦合、内聚、分割、粒度
● 软技能:有效的团队管理、会议、谈判、演讲等
● 现代性:过去数年间发生了根本性变化的工程实践和操作方法
● 作为工程学科的架构:可重现的结果、衡量标准以及提高软件架构严谨性的具体评估
Preface: Invalidating Axioms
1. Introduction
Defining Software Architecture
Expectations of an Architect
Expectations of an Architect
Intersection of Architecture and...
Laws of Software Architecture
Part I. Foundations
2. Architectural Thinking
Architecture Versus Design
Technical Breadth
Analyzing Trade-Offs
Understanding Business Drivers
Balancing Architecture and Hands-On Coding
3. Modularity
Definition
Measuring Modularity
From Modules to Components
4. Architecture Characteristics Defined
Architectural Characteristics (Partially) Listed
Trade-Offs and Least Worst Architecture
5. Identifying Architectural Characteristics
Extracting Architecture Characteristics from Domain Concerns
Extracting Architecture Characteristics from Requirements
Case Study: Silicon Sandwiches
6. Measuring and Governing Architecture Characteristics
Measuring Architecture Characteristics
Governance and Fitness Functions
7. Scope of Architecture Characteristics
Coupling and Connascence
Architectural Quanta and Granularity
8. Component-Based Thinking
Component Scope
Architect Role
Developer Role
Component Identification Flow
Component Granularity
Component Design
Case Study: Going, Going, Gone: Discovering Components
Architecture Quantum Redux: Choosing Between Monolithic Versus Distributed Architectures
Part II. Architecture Styles
9. Foundations
Fundamental Patterns
Monolithic Versus Distributed Architectures
10. Layered Architecture Style
Topology
Layers of Isolation
Adding Layers
Other Considerations
Why Use This Architecture Style
Architecture Characteristics Ratings
11. Pipeline Architecture Style
Topology
Example
Architecture Characteristics Ratings
12. Microkernel Architecture Style
Topology
Registry
Contracts
Examples and Use Cases
Architecture Characteristics Ratings
13. Service-Based Architecture Style
Topology
Topology Variants
Service Design and Granularity
Database Partitioning
Example Architecture
Architecture Characteristics Ratings
When to Use This Architecture Style
14. Event-Driven Architecture Style
Topology
Broker Topology
Mediator Topology
Asynchronous Capabilities
Error Handling
Preventing Data Loss
Broadcast Capabilities
Request-Reply
Choosing Between Request-Based and Event-Based
Hybrid Event-Driven Architectures
Architecture Characteristics Ratings
15. Space-Based Architecture Style
General Topology
Data Collisions
Cloud Versus On-Premises Implementations
Replicated Versus Distributed Caching
Near-Cache Considerations
Implementation Examples
Architecture Characteristics Ratings
16. Orchestration-Driven Service-Oriented Architecture
History and Philosophy
Topology
Taxonomy
Reuse...and Coupling
Architecture Characteristics Ratings
17. Microservices Architecture
History
Topology
Distributed
Bounded Context
API Layer
Operational Reuse
Frontends
Communication
Architecture Characteristics Ratings
Additional References
18. Choosing the Appropriate Architecture Style
Shifting "Fashion" in Architecture
Decision Criteria
Monolith Case Study: Silicon Sandwiches
Distributed Case Study: Going, Going, Gone
Part III. Techniques and Soft Skills
19. Architecture Decisions
Architecture Decision Anti-Patterns
Architecturally Significant
Architecture Decision Records
20. Analyzing Architecture Risk
Risk Matrix
Risk Assessments
Risk Storming
Agile Story Risk Analysis
Risk Storming Examples
21. Diagramming and Presenting Architecture
Diagramming
Presenting
22. Making Teams Effective
Team Boundaries
Architect Personalities
How Much Control?
Team Warning Signs
Leveraging Checklists
Providing Guidance
Summary
23. Negotiation and Leadership Skills
Negotiation and Facilitation
The Software Architect as a Leader
Integrating with the Development Team
Summary
24. Developing a Career Path
The 20-Minute Rule
Developing a Personal Radar
Using Social Media
Parting Words of Advice
A. Self-Assessment Questions
Index
书名:软件架构基础(影印版)
国内出版社:东南大学出版社
出版时间:2020年12月
页数:420
书号:978-7-5641-9206-8
原版书书名:Fundamentals of Software Architecture
原版书出版商:O'Reilly Media
The animal on the cover of Fundamentals of Software Engineering is the red-fan parrot (Deroptyus accipitrinus), a native to South America where it is known by several names such as loro cacique in Spanish, or anaca, papagaio-de-coleira, and vanaquiá in Portugese. This New World bird makes its home up in the canopies and tree holes of the Amazon rainforest, where it feeds on the fruits of the Cecropia tree, aptly known as "snake fingers," as well as the hard fruits of various palm trees.
As the only member of the genus Deroptyus, the red-fan parrot is distinguished by the deep red feathers that cover its nape. Its name comes from the fact that those feathers will "fan" out when it feels excited or threatened and reveal the brilliant blue that highlights each tip. The head is topped by a white crown and yellow eyes, with brown cheeks that are streaked in white. The parrot's breast and belly are covered in the same red feathers dipped in blue, in contrast with the layered bright green feathers on its back.
Between December and January, the red-fan parrot will find its lifelong mate and then begin laying 2-4 eggs a year. During the 28 days in which the female is incubating the eggs, the male will provide her with care and support. After about 10 weeks, the young are ready to start fledging in the wild and begin their 40-year life span in the world's largest tropical rainforest.
While the red-fan parrot's current conservation status is designated as of Least Concern, many of the animals on O'Reilly covers are endangered; all of them are important to the world.
The cover illustration is by Karen Montgomery, based on a black and white engraving from Lydekker's Royal Natural History. The cover fonts are Gilroy Semibold and Guardian Sans. The text font is Adobe Minion Pro; the heading font is Adobe Myriad Condensed; and the code font is Dalton Maag's Ubuntu Mono.