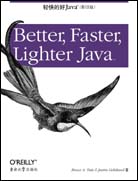 轻快的好Java(影印版)
出版时间:2005年11月
页数:264
Java的开发者正深陷于复杂性的泥沼中而无法自拔。我们正接近一个极限,程序设计师为了撰写程序来支持所选择的结构比解决真正的问题所花的时间更多,但是有必要把Java搞得这么困难吗?
不,不是这样的。《轻快的好Java》能为你指引一条出路。不论是要维护一个应用程序还是从头开始一个设计,你都能够超越常规,大幅地简化基本结构、程序开发,最终及于程序代码。你会重新掌握一度失控的J2EE应用程序。
在《轻快的好Java》一书中,作者Bruce A. Tate与Justin Gehtland会从头细说。首先,他们列出了五项基本原则,展示出如何建构简单、独立的程序代码,并带领你了解怎样选择技术。他们还对两种广为采用的开放源码应用程序是如何包含这些概念做了解释。最后,作者将这些基本原则应用于一个简单但又非常丰富的应用程序,以此来解决真实世界所遇到的问题。
你曾经想象过工具与平台结构能让你的日子过得更好吗?你曾经为了支持技术框架的程序代码比完成实际工作的程序代码还要多而感到困扰吗?那就该是回到问题的本身并摆脱过分膨胀的软件束缚的时候了。此时你得自问什么才是真正重要的,并要发掘如何才能简单又优雅地完成任务。《轻快的好Java》能告诉你如何走上这条新的途径。你的用户(甚至是你的朋友跟家人)都会感激的。
Bruce Tate是《Bitter Java and Bitter EJB》的作者与J2Life的总裁。Justin Gehtland是Relevance,LLC的共同创办人与TheServerSide.net的Agile Technologies专栏作家。
本书荣获2005年第十五届Jolt技术类图书震撼大奖。
Preface
1. The Inevitable Bloat
Bloat Drivers
Options
Five Principles for Fighting the Bloat
Summary
2. Keep It Simple
The Value of Simplicity
Process and Simplicity
Your Safety Net
Summary
3. Do One Thing, and Do It Well
Understanding the Problem
Distilling the Problem
Layering Your Architecture
Refactoring to Reduce Coupling
Summary
4. Strive for Transparency
Benefits of Transparency
Who誷 in Control?
Alternatives to Transparency
Reflection
Injecting Code
Generating Code
Advanced Topics
Summary
5. You Are What You Eat
Golden Hammers
Understanding the Big Picture
Considering Technical Requirements
Summary
6. Allow for Extension
The Basics of Extension
Tools for Extension
Plug-In Models
Who Is the Customer?
Summary
7. Hibernate
The Lie
What Is Hibernate?
Using Your Persistent Model
Evaluating Hibernate
Summary
8. Spring
What Is Spring?
Pet Store: A Counter-Example
The Domain Model
Adding Persistence
Presentation
Summary
9. Simple Spider
What Is the Spider?
Examining the Requirements
Planning for Development
The Design
The Configuration Service
The Crawler/Indexer Service
The Search Service
The Console Interface
The Web Service Interface
Extending the Spider
10. Extending JPetStore
A Brief Look at the Existing Search Feature
Replacing the Controller
The User Interface (JSP)
Setting Up the Indexer
Making Use of the Configuration Service
Adding Hibernate
Summary
11. Where Do We Go from Here?
Technology
Process
Challenges
Conclusion
Bibliography
Index
书名:轻快的好Java(影印版)
国内出版社:东南大学出版社
出版时间:2005年11月
页数:264
书号:7-5641-0162-8
原版书出版商:O'Reilly Media
The animal on the cover of Better, Faster, Lighter Java is a hummingbird. There are over 300 hummingbird species, all found only in the New World. All these species are easily identifiable by their long,tubular bills and iridescent feathers. The iridescence is a refraction effect that can be seen only when light is shining on the feathers at certain angles. Hummingbirds range in size from the bee hummingbird, which, measuring 2 inches long and weighing less than an ounce, is the smallest of all birds, to the great hummingbird, which measures about 8.5 inches long.
Hummingbirds are so named because of the humming noise made by their rapidly moving wings. On average, hummingbirds flap their wings 50 times a second; some species can flap as many as 200 times per second. The wings are flexible at the shoulder and, unlike most birds, they are propelled on the upstroke as well as the
downstroke. Because of this flexibility, hummingbirds can hover, fly right or left, backward, and upside down. Most hummingbirds have tiny feet that are used only for perching, never for walking. Hummingbirds will fly to travel even a few inches.
Hummingbirds expend a great deal of energy,and they need to feed every 10 minutes or so. They feed on nectar, for sugar, and small insects, for protein. Their long, tapered bills enable them to retrieve nectar from even the deepest flower. Pollen accumulates on the head and neck of hummingbirds while they gather nectar. They then transfer this pollen to other flowers and thus play an important role in plant reproduction.
Hummingbirds appear frequently in Native American legends and mythology, often as representatives of the sun. According to some folk beliefs, they can bring love.
Since Europeans first spotted these beautiful, colorful little birds, they have often appeared in the art and literature of the Old World, as well.