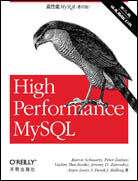 高性能MySQL(第二版,影印版)
出版时间:2009年04月
页数:684
《高性能MySQL》教你如何使用MySQL构建快速、可靠的系统。本书的作者都是知名专家,具有多年构建大型系统的实际经验。本书第二版涵盖了MySQL性能细节并且专注于健壮性、安全性和数据完整性。

《高性能MySQL》深入讲解高级技巧从而让你能够受益于MySQL的全部威力。你将学到如何设计模板、索引、查询和令性能最大化的高级MySQL特性。另外,你将获得详细的指导来为你的MySQL服务器、操作系统和硬件进行性能调优以便发挥它们的全部潜能。同时还包括运用实用、安全和高性能的方法来扩展你的应用,使其具有副本保存、负载均衡、高可用和失败自动切换的功能。

本书第二版进行了全面修改以及很大程度地扩展,对所有专题都进行了更有深度的覆盖。主要的新增内容包括:

* 强调性能和可靠性的每一方面
* 详细涵盖搜索引擎,包括深度调优和InnoDB存储引擎的优化
* MySQL5.0和5.1新功能的效用,包括存储过程、数据库分区、触发器和视图
* 对如何使用MySQL构建大型、高可扩展系统进行了详细的讨论
* 备份和副本的新选项
* 高级查询功能的优化,例如全文检索
* 四个全新的附录

本书的内容还包括基准分析、评测报告、备份、安全性以及帮你测量、监控并管理所安装的MySQL的工具和技巧。

"我向那些初涉MySQL并且现在正准备编写第一个实际应用的新手、和那些已经把基于MySQL的应用优化得不错但还需再上一层楼的有经验用户推荐此书。"
——Michael Widenius,MySQL的初始开发人员

Foreword
Preface
1. MySQL Architecture
MySQL's Logical Architecture
Concurrency Control
Transactions
Multiversion Concurrency Control
MySQL's Storage Engines
2. Finding Bottlenecks: Benchmarking and Profiling
Why Benchmark?
Benchmarking Strategies
Benchmarking Tactics
Benchmarking Tools
Benchmarking Examples
Profiling
Operating System Profiling
3. Schema Optimization and Indexing
Choosing Optimal Data Types
Indexing Basics
Indexing Strategies for High Performance
An Indexing Case Study
Index and Table Maintenance
Normalization and Denormalization
Speeding Up ALTER TABLE
Notes on Storage Engines
4. Query Performance Optimization
Slow Query Basics: Optimize Data Access
Ways to Restructure Queries
Query Execution Basics
Limitations of the MySQL Query Optimizer
Optimizing Specific Types of Queries
Query Optimizer Hints
User-Defined Variables
5. Advanced MySQL Features
The MySQL Query Cache
Storing Code Inside MySQL
Cursors
Prepared Statements
User-Defined Functions
Views
Character Sets and Collations
Full-Text Searching
Foreign Key Constraints
Merge Tables and Partitioning
Distributed (XA) Transactions
6. Optimizing Server Setting
Configuration Basics
General Tuning
Tuning MySQL's I/O Behavior
Tuning MySQL Concurrency
Workload-Based Tuning
Tuning Per-Connection Settings
7. Operating System and Hardware Optimization
What Limits MySQL's Performance?
How to Select CPUs for MySQL
Balancing Memory and Disk Resources
Choosing Hardware for a Slave
RAID Performance Optimization
Storage Area Networks and Network-Attached Storage
Using Multiple Disk Volumes
Network Configuration
Choosing an Operating System
Choosing a Filesystem
Threading
Swapping
Operating System Status
8. Replication
Replication Overview
Setting Up Replication
Replication Under the Hood
Replication Topologies
Replication and Capacity Planning
Replication Administration and Maintenance
Replication Problems and Solutions
How Fast Is Replication?
The Future of MySQL Replication
9. Scaling and High Availability
Terminology
Scaling MySQL
Load Balancing
High Availability
10. Application-Level Optimization
Application Performance Overview
Web Server Issues
Caching
Extending MySQL
Alternatives to MySQL
11. Backup and Recovery
Overview
Considerations and Tradeoffs
Managing and Backing Up Binary Logs
Backing Up Data
Recovering from a Backup
Backup and Recovery Speed
Backup Tools
Scripting Backups
12. Security
Terminology
Account Basics
Operating System Security
Network Security
Data Encryption
MySQL in a chrooted Environment
13. MySQL Server Status
System Variables
SHOW STATUS
SHOW INNODB STATUS
SHOW PROCESSLIST
SHOW MUTEX STATUS
Replication Status
INFORMATION_SCHEMA
14. Tools for High Performance
Interface Tools
Monitoring Tools
Analysis Tools
MySQL Utilities
Sources of Further Information
A. Transferring Large Files
B. Using EXPLAIN
C. Using Sphinx with MySQL
D. Debugging Locks
Index
书名:高性能MySQL(第二版,影印版)
国内出版社:中国电力出版社
出版时间:2009年04月
页数:684
书号:978-7-80205-732-6
原版书出版商:O'Reilly Media
The animal on the cover of High Performance MySQL is a sparrow hawk (Accipiter
nisus), a small woodland member of the falcon family found in Eurasia and North
Africa. Sparrow hawks have a long tail and short wings; males are bluish-gray with a
light brown breast, and females are more brown-gray and have an almost fully white
breast. Males are normally somewhat smaller (11 inches) than females (15 inches).
Sparrow hawks live in coniferous woods and feed on small mammals, insects, and
birds. They nest in trees and sometimes on cliff ledges. At the beginning of the
summer, the female lays four to six white eggs, blotched red and brown, in a nest
made in the boughs of the tallest tree available. The male feeds the female and their
young.
Like all hawks, the sparrow hawk is capable of bursts of high speed in flight. Whether
soaring or gliding, the sparrow hawk has a characteristic flap-flap-glide action; its
large tail enables the hawk to twist and turn effortlessly in and out of cover.