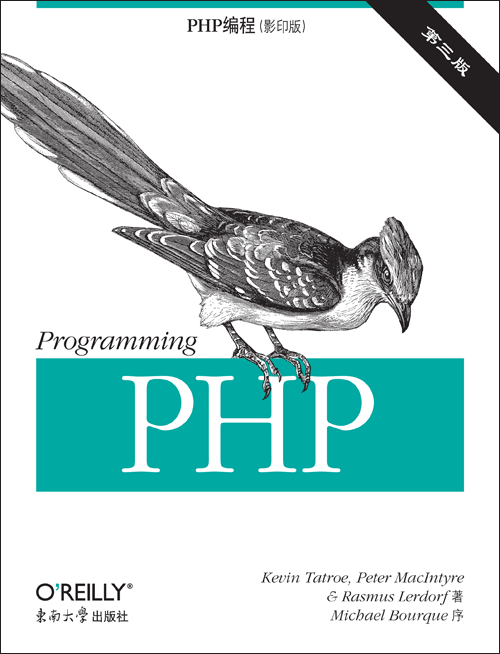 PHP编程(第三版,影印版)
出版时间:2013年10月
页数:514
"……PHP容易上手,而且你几乎可以用它做任何事情。在当今世界,你并不需要任何计算机科学方面的学位就能够实现一些举足轻重的事情。你只需要一些像这样的书籍,一些与你相伴的社区,一点点忘我的精神和一些力气活,你就能够创建出一个全新的工具。"
——Michael Bourque
PTC公司的副总裁,Boston PHP用户组的组织者

本修订版本将为你讲解在使用PHP 5.x最新特性创建高效web应用时所需要知道的一切内容。你将首先有个初步的印象,然后通过一些正确用法和常见错误的演示来深入了解语言的语法、编程技巧和其他细节。
如果你熟悉HTML,本书作者的诸多风格提示和实践编程建议将可以帮助你成为一名顶尖PHP程序员。

· 概览PHP程序的能力
· 学习语言基础内容,包括数据类型、变量、操作符和流程控制语句
· 理解函数、字符串、数组和对象
· 运用常见的web应用技术,比如表单处理、数据校验、会话跟踪和Cookie
· 与MySQL这样的关系数据库或者MongoDB这样的NoSQL数据库交互
· 生成动态图像,创建PDF文件和分析XML文件
· 学习安全脚本、错误处理、性能调优和其他高级主题
· PHP核心函数和标准扩展的快速参考

Chapter 1: Introduction to PHP
What Does PHP Do?
A Brief History of PHP
Installing PHP
A Walk Through PHP
Chapter 2: Language Basics
Lexical Structure
Data Types
Variables
Expressions and Operators
Flow-Control Statements
Including Code
Embedding PHP in Web Pages
Chapter 3: Functions
Calling a Function
Defining a Function
Variable Scope
Function Parameters
Return Values
Variable Functions
Anonymous Functions
Chapter 4: Strings
Quoting String Constants
Printing Strings
Accessing Individual Characters
Cleaning Strings
Encoding and Escaping
Comparing Strings
Manipulating and Searching Strings
Regular Expressions
Chapter 5: Arrays
Indexed Versus Associative Arrays
Identifying Elements of an Array
Storing Data in Arrays
Multidimensional Arrays
Extracting Multiple Values
Converting Between Arrays and Variables
Traversing Arrays
Sorting
Acting on Entire Arrays
Using Arrays
Iterator Interface
Chapter 6: Objects
Terminology
Creating an Object
Accessing Properties and Methods
Declaring a Class
Introspection
Serialization
Chapter 7: Web Techniques
HTTP Basics
Variables
Server Information
Processing Forms
Setting Response Headers
Maintaining State
SSL
Chapter 8: Databases
Using PHP to Access a Database
Relational Databases and SQL
MySQLi Object Interface
SQLite
Direct File-Level Manipulation
MongoDB
Chapter 9: Graphics
Embedding an Image in a Page
Basic Graphics Concepts
Creating and Drawing Images
Images with Text
Dynamically Generated Buttons
Scaling Images
Color Handling
Chapter 10: PDF
PDF Extensions
Documents and Pages
Text
Chapter 11: XML
Lightning Guide to XML
Generating XML
Parsing XML
Parsing XML with DOM
Parsing XML with SimpleXML
Transforming XML with XSLT
Chapter 12: Security
Filter Input
Cross-Site Scripting
Escape Output
Session Fixation
File Uploads
File Access
PHP Code
Shell Commands
More Information
Security Recap
Chapter 13: Application Techniques
Code Libraries
Templating Systems
Handling Output
Error Handling
Performance Tuning
Chapter 14: PHP on Disparate Platforms
Writing Portable Code for Windows and Unix
Interfacing with COM
Chapter 15: Web Services
REST Clients
XML-RPC
Chapter 16: Debugging PHP
The Development Environment
The Staging Environment
The Production Environment
php.ini Settings
Manual Debugging
Error Log
IDE Debugging
Additional Debugging Techniques
Chapter 17: Dates and Times
Appendix Function Reference
PHP Functions by Category
Alphabetical Listing of PHP Functions
书名:PHP编程(第三版,影印版)
国内出版社:东南大学出版社
出版时间:2013年10月
页数:514
书号:978-7-5641-4456-2
原版书书名:Programming PHP, 3rd Edition
原版书出版商:O'Reilly Media
The animal on the cover of Programming PHP, Third Edition is a cuckoo (Cuculus canorus). Cuckoos epitomize minimal effort. The common cuckoo doesn't build a nest—instead, the female cuckoo finds another bird's nest that already contains eggs and lays an egg in it (a process she may repeat up to 25 times, leaving 1 egg per nest). The nest mother rarely notices the addition, and usually incubates the egg and then feeds the hatchling as if it were her own. Why don't nest mothers notice that the cuckoo's eggs are different from their own? Recent research suggests that it's because all eggs look the same in the ultraviolet spectrum, in which birds can see.

When they hatch, the baby cuckoos push all the other eggs out of the nest. If the other eggs hatched first, the babies are pushed out too. The host parents often continue to feed the cuckoo even after it grows to be much larger than they are, and cuckoo chicks sometimes use their call to lure other birds to feed them as well. Interestingly, only Old World (European) cuckoos colonize other nests—the New World (American) cuckoos build their own (untidy) nests. Like many Americans, these cuckoos migrate to the tropics for winter.

Cuckoos have a long and glorious history in literature and the arts. The Bible mentions them, as do Pliny and Aristotle. Beethoven used the cuckoo's distinctive call in his Pastoral Symphony. And here's a bit of etymology for you: the word "cuckold" (a husband whose wife is cheating on him) comes from "cuckoo." Presumably, the practice of laying one's eggs in another's nest seemed an appropriate metaphor.