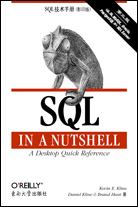 SQL技术手册(第三版,影印版)
出版时间:2009年07月
页数:578
《SQL技术手册》是当今最流行的数据库产品中使用的SQL语言的必不可少的一本指南。这个更新的版本依照最新的ANSI标准清楚地评述了每个SQL命令,并详述了这些命令在Microsoft SQL Server 2008、Oracle 11g、MySQL 5.1和 PostgreSQL 8.3中分别如何实现。你还可以纵览关系数据库管理系统(RDBMS)模型,并获取关于RDBMS基本原理的明确解释。这本通俗易懂的书提供了:
· 关系数据库模型的背景,包括当前的和以前的SQL标准
用于理解关系数据库和SQL命令的必要基础原理
· 按照SQL2003 ANSI标准的按字母表顺序排列的SQL语句
· 每一条命令的MySQL、Oracle、PostgreSQL和SQL Server实现
· 按字母表顺序排列的ANSI SQL2003函数和厂商实现
· 每种实现独有的平台特定函数
《SQL技术手册》在厂商文档结束时就着手更新至第三版,提取了众多专业数据库管理者和开发者使用SQL支持复杂的企业级应用程序的不同经验。无论你是初学者还是已经使用了一段时间SQL,这本简明扼要且实用的书籍都会让你学习到许多技巧和技术。
Kevin E. Kline是Quest Software公司SQL Server Solution的负责人,该公司是数据库管理及应用程序监测工具的供应商。
Daniel Kline是美国阿拉斯加大学英语系的副教授和研究生课程主席。
Brand Hunt是Merrill Lynch(美林证券)建筑与工程项目的负责人。
Preface
1. SQL History and Implementations
The Relational Model and ANSI SQL
History of the SQL Standard
SQL Dialects
2. Foundational Concepts
Database Platforms Described in This Book
Categories of Syntax
SQL2003 and Platform-Specific Datatypes
Constraints
3. SQL Statement Command Reference
How to Use This Chapter
SQL Platform Support
SQL Command Reference
4. SQL Functions of Functions
ANSI SQL Aggregate Functions
ANSI SQL Window Functions
ANSI SQL Scalar Functions
Platform-Specific Extensions
Appendix: Shared and Platform-Specific Keywords
Index
书名:SQL技术手册(第三版,影印版)
国内出版社:东南大学出版社
出版时间:2009年07月
页数:578
书号:978-7-5641-1651-4
原版书出版商:O'Reilly Media
The animal on the cover of SQL in a Nutshell, Third Edition, is a chameleon.
There are approximately 85 species of chameleons existing in the world today.
They are mostly indigenous to Africa, although there are a few species found in
Asia and in Europe. Most are tree dwellers. The chameleon is relatively small; the
average adult size is between 6 and 12 inches. It lives mostly on insects and uses
its long tongue to capture its prey. Indeed, the tongue is a critical tool. It can
stretch up to 1.5 times the lizard's body length, and there is an adhesive pad on
the end on which the insects are trapped. There are several other characteristics
common to all species of chameleons. For example, its eyes are large and
protruding, and the lizard can see 360 degrees without moving its head or body.
Its toes are on either side of its feet, usually three on one side and two on the
other. This is ideal for moving quickly and efficiently through tree branches.
Chameleons are best known for their ability to change their appearance to adapt
to their physical environment. Actually, several types of reptiles can change their
skin color, but the chameleon is far and away the most accomplished. This skill,
which is moderated by the nervous system, obviously is invaluable for hunting
prey and avoiding predators, and also helps to stabilize body temperature. The
extent of this camouflage capability is related to the gender, age, and species of
the lizard.