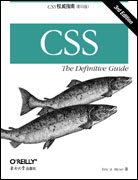 CSS权威指南,第三版(影印版)
出版时间:2007年06月
页数:540
想要快速省力地做到让Web风格整齐划一吗?《CSS权威指南》(第三版)告诉你怎样将最新的CSS2以及CSS2.1里面所定义的各种CSS元素应用到实际工作当中。通过书中的例子,你将学会怎样使用CSS创建或修改网站的外观,并且达到普通HTML无法实现的效果。
著名的CSS专家Eric A. Meyer用他招牌式的智慧和无与伦比的经验引领读者探索了CSS的各个部分,包括属性、标记、特性和实现。此外,他还就现实应用中的一些问题,例如浏览器的支持和设计方针,发表了看法。你所要知道的就是HTML 4.0的知识,这样就可以创建整洁、易于维护的脚本,以与桌面出版系统同样的优雅和控制能力管理网站布局和分页。你将会学到:
*精妙地设计文本风格
*用户界面、表格布局、列表以及自动生成的内容
*浮动和定位的细节
*Font family和Fallback机制
*盒模型(box model)的工作机制
*IE7、Firefox及其他一些浏览器所支持的最新CSS3 的选择器(selector)
经过彻底地更新,新版的《CSS权威指南》已经适用于IE7。它详细讲述了CSS的各个属性,告诉你怎样同其他属性交互,怎样在编写CSS时避免常见的错误。不管你是一个有经验的Web开发人员还是一个彻底的初学者,这本书都是你的CSS学习源泉。
Eric A.Meyer从1993年就开始使用Web技术。他是国际公认的HTML、CSS和Web标准的专家。此外,他还是Complex Spiral Consulting公司的创建人。这个公司的客户包括America Online、Apple Computer、Wells Fargo Bank和Macromedia。
Preface
1. CSS and Documents
The Web's Fall from Grace
CSS to the Rescue
Elements
Bringing CSS and XHTML Together
2. Selectors
Basic Rules
Grouping
Class and ID Selectors
Attribute Selectors
Using Document Structure
Pseudo-Classes and Pseudo-Elements
3. Structure and the Cascade
Specificity
Inheritance
The Cascade
4. Values and Units
Numbers
Percentages
Color
Length Units
URLs
CSS2 Units
5. Fonts
Font Families
Font Weights
Font Size
Styles and Variants
Stretching and Adjusting Fonts
The font Property
Font Matching
6. Text Properties
Indentation and Horizontal Alignment
Vertical Alignment
Word Spacing and Letter Spacing
Text Transformation
Text Decoration
Text Shadows
7. Basic Visual Formatting
Basic Boxes
Block-Level Elements
Inline Elements
Altering Element Display
8. Padding, Borders, and Margins
Basic Element Boxes
Margins
Borders
Padding
9. Colors and Backgrounds
Colors
Foreground Colors
Backgrounds
10. Floating and Positioning
Floating
Positioning
11. Table Layout
Table Formatting
Table Cell Borders
Table Sizing
12. Lists and Generated Content
Lists
Generated Content
13. User Interface Styles
System Fonts and Colors
Cursors
Outlines
14. Non-Screen Media
Designating Medium-Specific Style Sheets
Paged Media
Aural Styles
A. Property Reference
B. Selector, Pseudo-Class, and
Pseudo-Element Reference
C. Sample HTML 4 Style Sheet
Index
书名:CSS权威指南,第三版(影印版)
国内出版社:东南大学出版社
出版时间:2007年06月
页数:540
书号:978-7-5641-0777-2
原版书出版商:O'Reilly Media
The animals on the cover of CSS: The Definitive Guide,Third Edition,are salmon
(salmonidae),which is a family of fish consisting of many different species. Two of
the most common salmon are the Pacific salmon and the Atlantic salmon.
Pacific salmon live in the northern Pacific Ocean off the coasts of North America and
Asia. There are five subspecies of Pacific salmon,with an average weight of 10 to 30
pounds. Pacific salmon are born in the fall in freshwater stream gravel beds,where
they incubate through the winter and emerge as inch-long fish. They live for a year or
two in streams or lakes and then head downstream to the ocean. There they live for a
few years,before heading back upstream to their exact place of birth to spawn and
then die.
Atlantic salmon live in the northern Atlantic Ocean off the coasts of North America
and Europe. There are many subspecies of Atlantic salmon,including the trout and
the char. Their average weight is 10 to 20 pounds. The Atlantic salmon family has a
life cycle similar to that of its Pacific cousins,and also travels from freshwater gravel
beds to the sea. A major difference between the two, however, is that the Atlantic
salmon does not die after spawning; it can return to the ocean and then return to the
stream to spawn again, usually two or three times.
Salmon, in general,are graceful,silver-colored fish with spots on their backs and
fins. Their diet consists of plankton,insect larvae,shrimp,and smaller fish. Their
unusually keen sense of smell is thought to help them navigate from the ocean back
to the exact spot of their birth,upstream past many obstacles. Some species of
salmon remain landlocked, living their entire lives in freshwater.
Salmon are an important part of the ecosystem, as their decaying bodies provide
fertilizer for streambeds. Their numbers have been dwindling over the years,
however. Factors in the declining salmon population include habitat destruction,
fishing, dams that block spawning paths, acid rain, droughts, floods, and pollution.