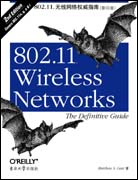 802.11无线网络权威指南(第二版,影印版)
出版时间:2006年04月
页数:654
使用无线网络是一种获得解放的、自由的经历。但是在这种经历的背后存在着一个复杂的协议,并且当数据不只限于在物理线路上传输时甚至会产生一些更为复杂的问题。怎样构造网络才能让移动用户活动自如?怎样扩展无线网络才能让它在任何需要的地方都可用?无线网络会产生哪些安全问题?怎样把无线网络调整到最佳性能?怎样提供足够的容量来支持最初希望的用户?怎样处理更多的用户接入网络所带来的各种问题?
《802.11无线网络权威指南》第二版讨论了上述所有问题及其他相关问题。本书主要是为部署或维护无线网络的严谨的系统管理员或网络管理员编写的。书中广泛讨论了无线网络的安全问题,包括使用WEP标准的安全问题,并讨论了动态WEP和802.1X、802.11i安全标准。由于对于任何严谨的网络管理员来说网络监视都是一项必须的工作,因此本书有专门的章节阐述如何使用Ethereal及其他工具进行网络分析和排错。
《802.11无线网络权威指南》同时还介绍了无线网络的最新发展。除了802.11b和11a标准之外,本书同时涵盖802.11g,并前瞻了正在成为标准的802.11n协议。这个新的版本扩展了网络规划架构的讨论,并特别关注了访问点之间的移动性、频谱管理和功率控制。本书是目前唯一的讲述了如何衡量无线网络性能及如何调整网络到最佳性能的工具书。
最后,《802.11无线网络权威指南》展示了怎样配置无线网卡和Linux、Windows和MAC OS X系统,以及怎样处理访问点。很少有一本书能够把你需要掌握的理论和完成工作所需要的实际经验和建议有机地结合在一起。《802.11无线网络权威指南》就是这样的一本好书。如果你负责管理无线网络,你就需要这本书。
Matthew S. Gast是无线网络规划和部署方面的权威作者。
Foreword
Preface
1. Introduction to Wireless Networking
Why Wireless?
What Makes Wireless Networks Different
A Network by Any Other Name...
2. Overview of 802.11 Networks
IEEE 802 Network Technology Family Tree
802.11 Nomenclature and Design
802.11 Network Operations
Mobility Support
3. 802.11 MAC Fundamentals
Challenges for the MAC
MAC Access Modes and Timing
Contention-Based Access Using the DCF
Fragmentation and Reassembly
Frame Format
Encapsulation of Higher-Layer Protocols Within 802.11
Contention-Based Data Service
Frame Processing and Bridging
4. 802.11 Framing in Detail
Data Frames
Control Frames
Management Frames
Frame Transmission and Association and Authentication States
5. Wired Equivalent Privacy (WEP)
Cryptographic Background to WEP
WEP Cryptographic Operations
Problems with WEP
Dynamic WEP
6. User Authentication with 802.1X
The Extensible Authentication Protocol
EAP Methods
802.1X: Network Port Authentication
802.1X on Wireless LANs
7. 802.11i: Robust Security Networks, TKIP, and CCMP
The Temporal Key Integrity Protocol (TKIP)
Counter Mode with CBC-MAC (CCMP)
Robust Security Network (RSN) Operations
8. Management Operations
Management Architecture
Scanning
Authentication
Preauthentication
Association
Power Conservation
Timer Synchronization
Spectrum Management
9. Contention-Free Service with the PCF
Contention-Free Access Using the PCF
Detailed PCF Framing
Power Management and the PCF
10. Physical Layer Overview
Physical-Layer Architecture
The Radio Link
RF Propagation with 802.11
RF Engineering for 802.11
11. The Frequency-Hopping (FH) PHY
Frequency-Hopping Transmission
Gaussian Frequency Shift Keying (GFSK)
FH PHY Convergence Procedure (PLCP)
Frequency-Hopping PMD Sublayer
Characteristics of the FH PHY
12. The Direct Sequence PHYs: DSSS and HR/DSSS (802.11b) .
Direct Sequence Transmission
Differential Phase Shift Keying (DPSK)
The "Original" Direct Sequence PHY
Complementary Code Keying
High Rate Direct Sequence PHY
13. 802.11a and 802.11j: 5-GHz OFDM PHY
Orthogonal Frequency Division Multiplexing (OFDM)
OFDM as Applied by 802.11a
OFDM PLCP
OFDM PMD
Characteristics of the OFDM PHY
14. 802.11g: The Extended-Rate PHY (ERP)
802.11g Components
ERP Physical Layer Convergence (PLCP)
ERP Physical Medium Dependent (PMD) Layer
15. A Peek Ahead at 802.11n: MIMO-OFDM
Common Features
WWiSE
TGnSync
Comparison and Conclusions
16. 802.11 Hardware
General Structure of an 802.11 Interface
Implementation-Specific Behavior
Reading the Specification Sheet
17. Using 802.11 on Windows
Windows XP
Windows 2000
Windows Computer Authentication
18. 802.11 on the Macintosh
The AirPort Extreme Card
802.1X on the AirPort
19. Using 802.11 on Linux
PCMCIA Support on Linux
Linux Wireless Extensions and Tools
Agere (Lucent) Orinoco
Atheros-Based cards and MADwifi
802.1X on Linux with xsupplicant
20. Using 802.11 Access Points
General Functions of an Access Point
Power over Ethernet (PoE)
Selecting Access Points
Cisco 1200 Access Point
Apple AirPort
21. Logical Wireless Network Architecture
Evaluating a Logical Architecture
Topology Examples
Choosing Your Logical Architecture
22. Security Architecture
Security Definition and Analysis
Authentication and Access Control
Ensuring Secrecy Through Encryption
Selecting Security Protocols
Rogue Access Points
23. Site Planning and Project Management
Project Planning and Requirements
Network Requirements
Physical Layer Selection and Design
Planning Access-Point Placement
Using Antennas to Tailor Coverage
24. 802.11 Network Analysis
Network Analyzers
Ethereal
802.11 Network Analysis Checklist
Other Tools
25. 802.11 Performance Tuning
802.11 Performance Calculations
Improving Performance
Tunable 802.11 Parameters
26. Conclusions and Predictions
Standards Work
Current Trends in Wireless Networking
The End
Glossary
Index
书名:802.11无线网络权威指南(第二版,影印版)
国内出版社:东南大学出版社
出版时间:2006年04月
页数:654
书号:7-5641-0316-7
原版书出版商:O'Reilly Media
The animal on the cover of 802.11 Wireless Networks: The Definitive Guide, Second
Edition, is a horseshoe bat (Rhinolophus hipposideros). This rare and globally endangered
species is the smallest of the European horseshoe bats; they typically weigh
only 4 to 10 grams and have a wingspan of 19 to 25 centimeters. Horseshoe bats get
their name from the horseshoe-shaped, leaflike plate of skin around their noses. This
nose-leaf helps modify and direct the ultrasonic sounds they emit through their
nostrils (a method of sensory perception known as echolocation) to orient themselves
to their surroundings, detect obstacles, communicate with each other, and
find food. Bats' echolocation systems are so accurate that they can detect insects the
size of gnats and objects as fine as a human hair.
Lesser horseshoe bats are found in a variety of habitats, ranging fromthe British Isles
to the Arabian Peninsula and Central Asia, and fromMorocco to Sudan. The lesser
horseshoe bat was originally a cave-roosting bat, but many summer maternity colonies
now occupy the roofs of old rural houses and farmbuildings. These bats also
sometimes roost in hedgerows and hollow trees. Maternity colonies of 30 to 70 are
normal, but roosting mothers have been known to form colonies of as many as 200
bats. Lesser horseshoe bats hibernate, sometimes in large groups, from October until
late April or early May. Their winter roosts are usually underground, in caves or
tunnels. They hang by their feet with their wings wrapped around their bodies, often
in open and exposed positions but rarely in large clusters.