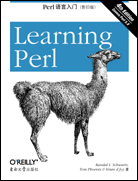 Perl语言入门(第四版,影印版)
出版时间:2006年04月
页数:283
《Perl语言入门,第四版》与其他"骆驼丛书"一样,引领了许多Perl程序员从入门走向精通。本书出自三个Perl社区的卓越成员之手 —— 他们拥有多年从事Perl培训的丰富经验,同时本书针对最新的Perl 5.8版本做了相应的修订。
Perl是为高效工作而设计的。开始时,它只是Unix系统管理员快速完成一些简单任务的工具,渐渐地它发展成为了一种跨平台的、功能强大的编程语言,被频繁地应用于网站开发、数据库处理、XML处理和系统管理等等。同时,它作为快速开发工具在日常工作中仍被广泛使用。也许,你是偶然地进入Perl程序开发领域,但我们相信Perl的简洁特性和强大功能将使你爱不释手。
基于多年Perl咨询的成功经验,作者重新修订了此书,不但保留了原书中详尽的讨论、丰富的实例和独特的理解,而且让本书更适合于初学者。
《Perl语言入门,第四版》包括了许多新的练习和解决方案,相信你可以从中学到许多新知识,本书主要涵盖以下内容:
●数据结构
●最小匹配
●线程
●数据解析
●引用
●对象
●模块
●打包实现
今天,如果问Perl程序员哪本书是他们最依赖的参考书籍,绝大多数的回答是 ——"骆驼丛书"。最好的理由是,这本书能教你成为一名真正的Perl程序员,而不仅仅像其他参考书一样告诉你如何编写Perl程序。
Preface
1. Introduction
Questions and Answers
What Does "Perl" Stand For?
How Can I Get Perl?
How Do I Make a Perl Program?
A Whirlwind Tour of Perl
Exercises
2. Scalar Data
Numbers
Strings
Perl's Built-in Warnings
Scalar Variables
Output with print
The if Control Structure
Getting User Input
The chomp Operator
The while Control Structure
The undef Value
The defined Function
Exercises
3. Lists and Arrays
Accessing Elements of an Array
Special Array Indices
List Literals
List Assignment
Interpolating Arrays into Strings
The foreach Control Structure
Scalar and List Context
<STDIN> in List Context
Exercises
4. Subroutines
Defining a Subroutine
Invoking a Subroutine
Return Values
Arguments
Private Variables in Subroutines
Variable-Length Parameter Lists
Notes on Lexical (my) Variables
The use strict Pragma
The return Operator
Non-Scalar Return Values
Exercises
5. Input and Output
Input from Standard Input
Input from the Diamond Operator
The Invocation Arguments
Output to Standard Output
Formatted Output with printf
Filehandles
Opening a Filehandle
Fatal Errors with die
Using Filehandles
Reopening a Standard Filehandle
Exercises
6. Hashes
What Is a Hash?
Hash Element Access
Hash Functions
Typical Use of a Hash
Exercises
7. In the World of Regular Expressions
What Are Regular Expressions?
Using Simple Patterns
Character Classes
Exercises
8. Matching with Regular Expressions
Matches with m//
Option Modifiers
Anchors
The Binding Operator, =~
Interpolating into Patterns
The Match Variables
General Quantifiers
Precedence
A Pattern Test Program
Exercises
9. Processing Text with Regular Expressions
Substitutions with s///
The split Operator
The join Function
m// in List Context
More Powerful Regular Expressions
Exercises
10. More Control Structures
The unless Control Structure
The until Control Structure
Expression Modifiers
The Naked Block Control Structure
The elsif Clause
Autoincrement and Autodecrement
The for Control Structure
Loop Controls
Logical Operators
Exercise
11. File Tests
File Test Operators
The stat and lstat Functions
The localtime Function
Bitwise Operators
Using the Special Underscore Filehandle
Exercises
12. Directory Operations
Moving Around the Directory Tree
Globbing
An Alternate Syntax for Globbing
Directory Handles
Recursive Directory Listing
Manipulating Files and Directories
Removing Files
Renaming Files
Links and Files
Making and Removing Directories
Modifying Permissions
Changing Ownership
Changing Timestamps
Exercises
13. Strings and Sorting
Finding a Substring with index
Manipulating a Substring with substr
Formatting Data with sprintf
Advanced Sorting
Exercises
14. Process Management
The system Function
The exec Function
The Environment Variables
Using Backquotes to Capture Output
Processes as Filehandles
Getting Down and Dirty with fork
Sending and Receiving Signals
Exercises
15. Perl Modules
Finding Modules
Installing Modules
Using Simple Modules
Exercise
16. Some Advanced Perl Techniques
Trapping Errors with eval
Picking Items from a List with grep
Transforming Items from a List with map
Unquoted Hash Keys
Slices
Exercise
A. Exercise Answers
B. Beyond the Llama
Index
书名:Perl语言入门(第四版,影印版)
国内出版社:东南大学出版社
出版时间:2006年04月
页数:283
书号:7-5641-0275-6
原版书出版商:O'Reilly Media
The animal on the cover of Learning Perl, Fourth Edition is a llama,a relation of the
camel native to the Andean range. Also included in this llamoid group is the
domestic alpaca and their wild ancestors, the guanaco and the vicuna. Bones found
in ancient human settlements suggest that domestication of the alpaca and llama
dates back 4,500 years. In 1531,when Spanish conquistadors overran the Inca
Empire in the high Andes, they found both animals present in great numbers. These
llamas are suited for high mountain life; their hemoglobin can take in more oxygen
than that of other mammals.
Llamas can weigh up to 300 pounds and are mainly used as beasts of burden. A
packtrain may contain several hundred animals and can travel up to 20 miles per
day. Llamas will carry loads up to 50 pounds, but have a tendency to be shorttempered
and resort to spitting and biting to demonstrate displeasure. To the people
of the Andes, llamas also provide meat, wool for clothing, hides for leather, and fat for candles. Their wool can also be braided into rope and rugs, and their dried dung is used for fuel.