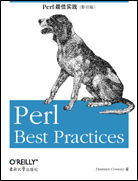 Perl最佳实践(影印版)
出版时间:2006年04月
页数:517
许多程序员凭直觉来编程,这些直觉来自于他们早期养成的习惯和风格。这样写出的程序似乎自然、直观,而且看起来也很不错。但是,如果你想严肃地对待程序员这份职业,那么直觉就远远不够了。《Perl最佳实践》讲述了许多关于Perl语言的编程规则、使用惯例、开发标准和最佳实践,这些内容不仅有助于程序员之间的交流和协同工作,同时也提供了一套思考问题的可靠框架和一种表述解决方案的通用语言。
通过生动幽默的表达,作者Damian Conway为Perl编程人员提供了关于编程艺术的256条规则,这些规则能帮助你编写出更好的Perl代码。这些规则涵盖了代码布局和命名规则,数据和控制结构的选择,程序解构和模块化,接口的设计和实现,面向对象设计,错误处理、程序测试和调试。
本书中所有的规则都是为了写出清晰、健壮、高效、可维护和简洁的程序而设计。Conway博士并不自诩这些规则是最广泛和最清晰的实践集,但实际上,本书确实提供了在实践中被广泛认可和应用的建议,而不是象牙塔似的编程理论。
最特别地是,《Perl最佳实践》提供的规则是实在有效的,世界各地的开发人员已经普遍使用。像Perl语言的初衷一样,这些规则将使你的开发更加出色。
"作为一个大型Perl项目的开发经理,我确信我的开发团队的每个成员都会把《Perl最佳实践》放在手边,并将它作为开发准测。"
—— Randal Schwartz
"这本书的出现使开发人员不再有任何借口写出糟糕的Perl程序。读过这本书后,所有的Perl开发人员的工作都会更加高效。"
—— Peter Scott, Perl trainer and author
"《Perl最佳实践》已经帮我节省了大量的时间,同时,'部门编码规范'的编写不再是难事。"
—— Andy Lester, Web Applications Manager, Follett Library Resources
"Damian完成的工作是难以置信的,不仅展现了如何构建大型的、可维护的Perl应用,同时,将Perl语言的强大表达力展现在我们面前。"
—— Bill Odom, Perl Foundation Steering Committee Chairman
Preface
1. Best Practices
Three Goals
This Book
Rehabiting
2. Code Layout
Bracketing
Keywords
Subroutines and Variables
Builtins
Keys and Indices
Operators
Semicolons
Commas
Line Lengths
Indentation
Tabs
Blocks
Chunking
Elses
Vertical Alignment
Breaking Long Lines
Non-Terminal Expressions
Breaking by Precedence
Assignments
Ternaries
Lists
Automated Layout
3. Naming Conventions
Identifiers
Booleans
Reference Variables
Arrays and Hashes
Underscores
Capitalization
Abbreviations
Ambiguous Abbreviations
Ambiguous Names
Utility Subroutines
4. Values and Expressions
String Delimiters
Empty Strings
Single-Character Strings
Escaped Characters
Constants
Leading Zeros
Long Numbers
Multiline Strings
Here Documents
Heredoc Indentation
Heredoc Terminators
Heredoc Quoters
Barewords
Fat Commas
Thin Commas
Low-Precedence Operators
Lists
List Membership
5. Variables
Lexical Variables
Package Variables
Localization
Initialization
Punctuation Variables
Localizing Punctuation Variables
Match Variables
Dollar-Underscore
Array Indices
Slicing
Slice Layout
Slice Factoring
6. Control Structures
If Blocks
Postfix Selectors
Other Postfix Modifiers
Negative Control Statements
C-Style Loops
Unnecessary Subscripting
Necessary Subscripting
Iterator Variables
Non-Lexical Loop Iterators
List Generation
List Selections
List Transformation
Complex Mappings
List Processing Side Effects
Multipart Selections
Value Switches
Tabular Ternaries
do-while Loops
Linear Coding
Distributed Control
Redoing
Loop Labels
7. Documentation
Types of Documentation
Boilerplates
Extended Boilerplates
Location
Contiguity
Position
Technical Documentation
Comments
Algorithmic Documentation
Elucidating Documentation
Defensive Documentation
Indicative Documentation
Discursive Documentation
Proofreading
8. Built-in Functions
Sorting
Reversing Lists
Reversing Scalars
Fixed-Width Data
Separated Data
Variable-Width Data
String Evaluations
Automating Sorts
Substrings
Hash Values
Globbing
Sleeping
Mapping and Grepping
Utilities
9. Subroutines
Call Syntax
Homonyms
Argument Lists
Named Arguments
Missing Arguments
Default Argument Values
Scalar Return Values
Contextual Return Values
Multi-Contextual Return Values
Prototypes
Implicit Returns
Returning Failure
10. I/O
Filehandles
Indirect Filehandles
Localizing Filehandles
Opening Cleanly
Error Checking
Cleanup
Input Loops
Line-Based Input
Simple Slurping
Power Slurping
Standard Input
Printing to Filehandles
Simple Prompting
Interactivity
Power Prompting
Progress Indicators
Automatic Progress Indicators
Autoflushing
11. References
Dereferencing
Braced References
Symbolic References
Cyclic References
12. Regular Expressions
Extended Formatting
Line Boundaries
String Boundaries
End of String
Matching Anything
Lazy Flags
Brace Delimiters
Other Delimiters
Metacharacters
Named Characters
Properties
Whitespace
Unconstrained Repetitions
Capturing Parentheses
Captured Values
Capture Variables
Piecewise Matching
Tabular Regexes
Constructing Regexes
Canned Regexes
Alternations
Factoring Alternations
Backtracking
String Comparisons
13. Error Handling
Exceptions
Builtin Failures
Contextual Failure
Systemic Failure
Recoverable Failure
Reporting Failure
Error Messages
Documenting Errors
OO Exceptions
Volatile Error Messages
Exception Hierarchies
Processing Exceptions
Exception Classes
Unpacking Exceptions
14. Command-Line Processing
Command-Line Structure
Command-Line Conventions
Meta-options
In-situ Arguments
Command-Line Processing
Interface Consistency
Interapplication Consistency
15. Objects
Using OO
Criteria
Pseudohashes
Restricted Hashes
Encapsulation
Constructors
Cloning
Destructors
Methods
Accessors
Lvalue Accessors
Indirect Objects
Class Interfaces
Operator Overloading
Coercions
16. Class Hierarchies
Inheritance
Objects
Blessing Objects
Constructor Arguments
Base Class Initialization
Construction and Destruction
Automating Class Hierarchies
Attribute Demolition
Attribute Building
Coercions
Cumulative Methods
Autoloading
17. Modules
Interfaces
Refactoring
Version Numbers
Version Requirements
Exporting
Declarative Exporting
Interface Variables
Creating Modules
The Standard Library
CPAN
18. Testing and Debugging
Test Cases
Modular Testing
Test Suites
Failure
What to Test
Debugging and Testing
Strictures
Warnings
Correctness
Overriding Strictures
The Debugger
Manual Debugging
Semi-Automatic Debugging
19. Miscellanea
Revision Control
Other Languages
Configuration Files
Formats
Ties
Cleverness
Encapsulated Cleverness
Benchmarking
Memory
Caching
Memoization
Caching for Optimization
Profiling
Enbugging
A. Essential Perl Best Practices
B. Perl Best Practices
C. Editor Configurations
D. Recommended Modules and Utilities
E. Bibliography
Index
书名:Perl最佳实践(影印版)
国内出版社:东南大学出版社
出版时间:2006年04月
页数:517
书号:7-5641-0163-6
原版书出版商:O'Reilly Media
The animal on the cover of Perl Best Practices is an American staghound,a hybrid of the greyhound and the Scottish deerhound that is bred specifically for coursing,or hunting by sight.Coursing is one of the world's oldest field sports, and "gazehounds,"or "sighthounds," have been tested in competition since as early as AD 116.
The staghound is not recognized as a breed, but is considered a type of sighthound.
Although some lines of staghounds have been bred together since the 1700s—longer than some modern breeds—most huntsmen don't push for breed recognition.They believe the staghound should be left unrecognized in order to preserve it as a coursing animal bred for function and not form.As a result, there are no breed standards.
Staghounds come in any color or pattern found in either the greyhound or
Scottish deerhound and have three coat types: "shag," "slick," and "broken" (which is between shag and slick).
The staghound exhibits many of the same physical characteristics as the greyhound,with long legs, strong muscles, a deep chest, and keen eyesight, and has the enduranceand scenting ability of the Scottish deerhound.The staghound's coursing instinct is so strong that anything that runs—rabbits,deer,coyotes,etc.—may be
considered quarry.Because these dogs are fast and alert but not hyper or aggressive,they are also said to make excellent pets if exercised regularly.