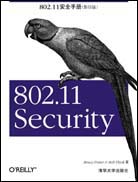 802.11安全手册(影印版)
出版时间:2003年06月
页数:196
无线网络为所有类型的用户展示了一种新的可能性。从传统的LAN环境到无线ISP、到特定的网络,802.11这种最流行的无线局域网协议正在逐渐改变着人们脑海中网络的概念。
同时,无线网络也向用户和网络管理员提出了新的安全性挑战。由于物理安全性的缺乏、可作为攻击工具的自由审核工具的普及,以及不受注意就可以监控流量的能力都使得无线网络成为了恶意用户最容易选择的目标。无线网络的每一条链接都需要受到保护,以保证数据的安全性。
本书介绍的是无线网络安全性的基础知识。阅读完本书,读者将可以理解802.11网络的工作方式,及其弱点的所在。在试图保护无线网络之前先了解无线网络部署中的实际风险和可能面临的攻击是非常重要的。
本书针对802.11网络中的所有主要组件都提供了实际的解决方案。基站安全性配置分别针对各种操作系统进行了归档,这些系统包括:Linux、FreeBSD、OpenBSD、Mac OS X和Windows。实际的网络中包含着很多不同种类的操作系统,而本书将会告诉你使用何种工具能够保护数据的安全性。
本书涵盖的主题包括:
* 接入点安全性
*网关安全性
* Linux、FreeBSD、OpenBSD、Mac OS X和Windows等系统的客户端安全性配置
* SNMP监视
*拒绝服务攻击和中间人攻击
* VPN配置和802.1x,802.1x是将在未来的无线网络部署中充当重要角色的身份验证和授权协议
本书对于任何要部署无线网络的用户来说都是很重要的,因为本书中提供了保护网络和重要数据所需的广泛的背景知识,并提供了特定的范例。
Preface
Part I. 802.11 Security Basics
1. A Wireless World
What Is Wireless?
Radio Transmission
Inherent Insecurity
802.11
Structure of 802.11 MAC
WEP
Problems with WEP
Is It Hopeless?
2. Attacks and Risks
An Example Network
Denial-of-Service Attacks
Man-in-the-Middle Attacks
Illicit Use
Wireless Risks
Knowing Is Half the Battle
Part II. Station Security
3. Station Security
Client Security Goals
Audit Logging
Security Updates
4. FreeBSD Station Security
FreeBSD Client Setup
5. Linux Station Security
Linux Client Setup
Kernel Configuration
OS Protection
Audit Logging
Secure Communication
6. OpenBSD Station Security
OpenBSD Client Setup
Kernel Configuration
OS Protection
Audit Logging
7. Mac OS X Station Security
Mac OS X Setup
OS Protection
Audit Logging
8. Windows Station Security
Windows Client Setup
OS Protection
Audit Logging
Secure Communication
Part III. Access Point Security
9. Setting Up an Access Point
General Access Point Security
Setting Up a Linux Access Point
Setting Up a FreeBSD Access Point
Setting Up an OpenBSD Access Point
Taking It to the Gateway
Part IV. Gateway Security
10. Gateway Security
Gateway Architecture
Secure Installation
Firewall Rule Creation
Audit Logging
11. Building a Linux Gateway
Laying Out the Network
Building the Gateway
Configuring Network Interfaces
Building the Firewall Rules
MAC Address Filtering
DHCP
DNS
Static ARP
Audit Logging
Wrapping Up
12. Building a FreeBSD Gateway
Building the Gateway
Building the Firewall Rules
Rate Limiting
DHCP
DNS
Static ARP
Auditing
13. Building an OpenBSD Gateway
Building the Gateway
Building the Firewall Rules
Rate Limiting
DHCP
DNS
Static ARP
Auditing
14. Authentication and Encryption
Portals
IPsec VPN
802.1x
15. Putting It All Together
Pieces of a Coherent System
User Knowledge
Looking Ahead
Index
书名:802.11安全手册(影印版)
国内出版社:清华大学出版社
出版时间:2003年06月
页数:196
书号:7-302-06534-9
原版书出版商:O'Reilly Media
The animal on the cover of 802.11 Security is an Indian ringnecked parakeet.Indian ringnecked parakeets are native to northern Africa and India, but are kept as pets all over the world.They get their name from the distinct black ring that males develop upon reaching maturity.
Though Indian ringnecked parakeets are usually green, breeders have been able to produce blue, yellow, and albino mutations. Their beaks are dark coral on top and black underneath. The birds can reach between 16 and 20 inches from the top of their heads to the tips of their long tails.
These parakeets are very playful and require a lot of attention when kept in captivity. They can learn to talk and are talented whistlers. When treated well and kept active, they can live up to 30 years.